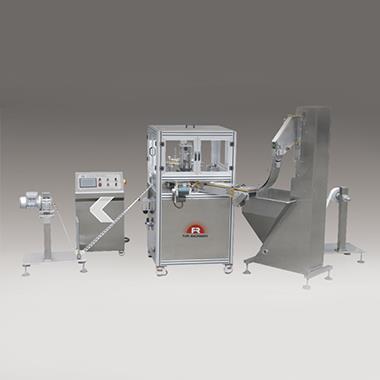 bottle cap filling machine
FRTB-SD1 Double Gasket Capping Machine Scope of application: This machine is widely used in bottle cap factories, gasket factories, pharmaceutical factories, food factories, daily chemical factories, packaging factories, etc. It is an ideal plug pad equipment. Features : 1, instead of manual work, the pad will be automatically
FRTB-SD1 Double Gasket Capping Machine
Scope of application:
This machine is widely used in bottle cap factories, gasket factories, pharmaceutical factories, food factories, daily chemical factories, packaging factories, etc. It is an ideal plug pad equipment.
Equipment Features:
1. Instead of manual operation, the gasket is automatically inserted into the bottle cap, which greatly improves the work efficiency;
2. The gasket inside the cover is smooth and fast, and the product is safe and hygienic;
3. This machine is equipped with safety protection device without bottle cap.
4. The capping mechanism adds the function of rejecting bottle caps, so that the cap of the discharge bottle cap faces upwards;
5. With automatic counting function, the number of caps can be set to stop automatically, which greatly improves the efficiency of subsequent work.
6. Drive and convey bottle caps with accurate positioning. The machine can automatically arrange the bottle caps randomly placed in the vibrating plate, and then send them into the guide rail. The turntable transports the bottle caps to the pad inbound, put them into the pad, and then output Finished product.
7. The mechanical transmission conveying and positioning mechanism is adopted to make the equipment work stably and reliably. It is suitable for various specifications of bottle caps and aluminum foils. When the size of the bottle caps is different, it is simple and convenient to replace the turntable, cushion cylinder and suction cup.
Equipment structure composition:
Automatic capping mechanism: sort out the messy bottle caps so that the caps face upward; bottle cap conveying mechanism: transport the sorted bottle caps to the sealing gasket gland mechanism in an orderly and accurate manner; gasket insertion mechanism: gasket Insert into the bottle cap and complete the action of inserting the gasket into the bottle cap.
| | | | | | |
| --- | --- | --- | --- | --- | --- |
| Aluminum foil specification | Production capacity (full automatic\/semi-automatic) | Supply voltage (V) | total power | Fully automatic\/semi-automatic | Net weight (KG) |
| 10-100 | 80-90\/For reference only 40-80 | 220 | 1.2 | 10-100\/20-50 | 850 |